More Than Just a Lawyer
THe legal counsel You Deserve
Serving Connecticut Since 1991
Workers' Compensation & Real Estate Attorney in Norwalk, Connecticut
A sudden legal issue can turn your world upside down. Whether you've been injured on the job or served with a foreclosure notice, you deserve an attorney who will fight for your rights. Robert Sciglimpaglia Attorney at Law has decades of experience in the areas of workers' compensation and real estate law. He knows the ins and outs of the industries and is ready to help you pursue the resolution you need. For knowledgeable legal guidance in Norwalk, Stamford, Bridgeport, or Danbury, Connecticut, contact Attorney Robert Sciglimpaglia today.
Robert J. Sciglimpaglia, Jr.
Attorney at Law
Attorney Robert Sciglimpaglia's broad legal background has prepared him to take on a wide range of cases. After earning his J.D. in 1991, he opened his own firm in Stamford, Connecticut. He then worked for Travelers Insurance Company as in house counsel until 2005, when he became certified by the Connecticut Bar Association as a worker's compensation specialist, and re-opened his firm in Norwalk, Connecticut. He has since represented many clients in the areas of workers' compensation and real estate. Robert's track record speaks for itself, as he is frequently appointed by the Stamford Superior Court as "Foreclosure Committee." In addition to workers' compensation and real estate, Robert also practices entertainment law, representing industry professionals in a variety of legal issues. He is an actor and voiceover artist himself, and a member of SAG-AFTRA (the actors professional Union) giving him the background knowledge to skillfully represent his fellow entertainers. Robert has even written an Amazon #1 bestseller—"Voice Over Legal"—that is widely used as a resource throughout the voiceover industry.
MORE ABOUT ROBERT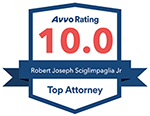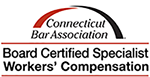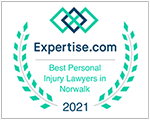 What Sets Robert Sciglimpaglia Apart?
Recognition in His Field
Robert's dedication to his career and his clients has earned him well-deserved acknowledgments. He is one of only 46 Connecticut attorneys to be a Certified Workers' Compensation Specialist, and he is the only certified attorney in Lower Fairfield County. Attorney Sciglimpaglia has also been named as a Super Lawyer every year since 2009 by the Connecticut and New England Magazines.
Well-Rounded Industry Knowledge
In addition to practicing entertainment law, Robert Sciglimpaglia is also an award winning professional actor and voiceover artist. He is a member of SAG-AFTRA, the professional actors Union. He is the author of "Voice Over Legal," an Amazon #1 bestseller that is widely used as a legal reference by the voiceover industry. Robert understands the entertainment world, and he uses his experience as a performer to better represent his clients. He is also a multi award winning film and television producer where he extensively utilizes his legal knowledge of these industries to produce quality projects.
I had the great opportunity of retaining Robert's services on a couple of occasions, he has demonstrated his loyalty, that he is ethical and a professional hardworking attorney, who always puts his clients' interests first.
I highly recommend Robert for any legal matters!
Travis Simms, norwalk, ct
He is honest and real. He is effective and efficient, excellent at what he does, because he knows what he is doing ~ whether it is real estate, foreclosure, contract law, personal injury, worker's compensation, or other legal concerns. I have hired him several times. When I need an attorney, he is the first I think to hire because he is the best there is.
foreclosure client
Professionally, Rob is well qualified and personally, he is compassionate, honest and (most importantly) very reasonable and protective of his clients. I have found Rob to possess very sound judgement in legal matters.

I would never take any legal decision or, put my signature on any legal document without consulting with Rob.
Manik Advani, New Canaan, CT
Work Through Your Case with a Collaborative Legal Partner
If you've been injured on the job, it can be incredibly intimidating to confront your employer. It should not be intimidating at all though. Employers are REQUIRED to have workers compensation insurance to protect them in the very instance if you are injured. However, it is important to file a timely claim to be sure the insurance company gets you the proper medical treatment for your injuries, and so you are sure to receive all of the benefits you are entitled to under the law for your injuries. By failing to provide you with a safe work environment, your employer may be liable for your injuries. Work with a knowledgeable attorney to discover the options available to you.
Robert Sciglimpaglia Attorney at Law is ready to walk you through the workers' compensation process. He'll be your guide as you file your insurance claim and pursue the benefits you deserve. In order to provide you with the best possible representation, Robert needs your cooperation. Be sure to tell him the full story and keep him updated on the doctors you see and the treatments you receive.
The world of real estate law can be complicated. You don't have to navigate it alone. Whether you're a home owner looking to sell your property, or if you are looking to purchase property as a first time or experienced buyer, Attorney Robert Sciglimpaglia is prepared to represent you. Turn to him if you need guidance on a mortgage modification or a potential foreclosure. He'll work to help you understand your rights and create a plan of action with your needs in mind.
You deserve an attorney who will put your best interests first. Robert Sciglimpaglia Attorney at Law wants to take your legal burdens off your plate and help you seek justice. Don't wait another moment to start your path toward a brighter future. If you live in Norwalk, Stamford, Bridgeport, or Danbury, Connecticut, contact Attorney Robert Sciglimpaglia today.